Franc

a DiDiomete – Remembrance and

Legacy

  
19-Jan-1956 – 25-Aug-2023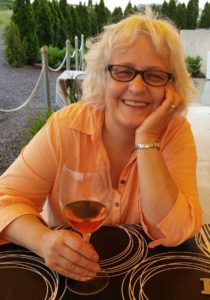 It is with heavy hearts that we share the news of Franca DiDiomete's passing with the social service community in Ottawa. Franca passed after a courageous battle with cancer over the last 4 and a half years. Franca joined Counselling and Family Service Ottawa (CFS), formerly known as Catholic Family Service Ottawa, in 1982 as a social worker and supervisor in the agency. After working in the agency for 13 years, she was appointed as the Executive Director in 1995, and remained in this role until 2021 when she retired.   
Franca was a leader, organizer and humanitarian that we all loved and appreciated. Under Franca's leadership, CFS grew in its influence, impact and expertise. As the new ED, Franca was able to shepherd the strategic direction of the organization in many significant ways, including:  
Focusing on delivering counselling programs to strengthen individuals' capacities in coping with challenges such as violence, stressand mental health issues, as opposed to meeting basic needs, which were being addressed by other organizations, while centring inclusion and diversity;

 

Cementing CFS's role as a leader in dealing with family violence and sexual abuse;

Reaffirming CFS's unique mission to provide services in both French and English and securing designation as a French Language service organization for some of its core programs;

 

Demonstrating leadership in fundraising efforts for the United Way, securing significant support for the funder, one of our coredonors;

 

Ensuring that CFS went through a renaming process from Catholic Family Service to Counselling and Family Service, reflecting the reality that the agency had always served diverse residents of Ottawa, regardless of religion. The name change reflected the openness of the agency to all the Ottawa community. 



Franca was known for her indefatigable nature. She nurtured CFS and was its main caretaker, going above and beyond what would be expected of one person. She worked tirelessly managing all the staff, providing one on one client support, and doing whatever needed to be done for the good of the agency – small or large. Her talents and skills were remarkable in many domains – whether financial management, fundraising, client-centered services, community collaboration and beyond. She was a visionary that made sure those most in need were supported with care and dignity ainsi que l'avenir du SFCO. Franca secured a donation of a building to deliver its services in the heart of Francophone Ottawa, from the Grey Sisters. The building was dedicated to her in her honour in October 2022.  
As a leader to her staff, Franca offered a supportive and reassuring presence and framework. She provided stability and consistency, and she was a negotiator beyond compare.   
Franca had deep integrity, her values were aligned both personally and professionally. As a values-based leader, she would talk about "walking the talk". In particular, she believed in the intrinsic value and worth of every person and her behaviours and actions recognized dignity in all. She practiced wholeheartedly the values that had been established by the agency and encouraged her staff to uphold them.   
Beyond the team and clients at CFS, Franca was able to share her wisdom and expertise with others across the city through partnerships with other organizations, and through committees and beyond. For example, she was an active member of the Ottawa Community Committee on Child Abuse and helped to create and coordinate its annual award for "Outstanding Contribution to Protection of Children", right up until her passing.  
Franca continued to work at CFS, even during chemo treatments, for two years before retiring – a testament to her dedication and care for the agency, its clients and staff. Even after her retirement, Franca continued to provide critical support to the agency, staying in touch with staff and providing invaluable mentorship and guidance to CFS's new leadership.    
Franca's impact on the community in Ottawa cannot be underestimated. Her leadership has had a concrete impact by supporting the wellness of Ottawa residents facing significant mental health challenges and supporting those who have been subjected to violence on their journey to recovery and safety, while always advancing inclusion and diversity.  
Franca's abundant connections professionally and personally reflect her fierce love and energy that brightened so many people's lives. Franca's memory lives on at CFS and we will always, like Franca, walk the talk and put community first. It was Franca's way. It is the CFS way.  It is how we will honour her memory and keep her with us always.